Pain from Cancer
Unexplained and Chronic Aches

Pain from cancer is inevitable especially during the late stages. But what about unexplained or chronic body aches or a feeling of discomfort? They may mean nothing serious but if it's starting to be chronic, see your doctor. Unexplained headache is usually one of the early symptoms of leukemia or brain tumor.
What is unexplained chronic pain? According to Margo McCaffrey, MSN,RN, FAAN, "It is whatever the experiencing person says it is, and exists whenever he says it does." That's why it is a symptom.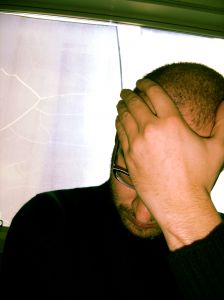 Existence of unexplained chronic body ache may not necessarily mean you have a malignancy. But it may also be one of the early symptoms depending on the kind of ache you are experiencing.
There are two kinds of pain. They can be . . .
1. Acute - is a kind of pain that is an effect of an injury and is apt to last only a short time.
2. Chronic - is the kind that continues for a long time even after the injury is treated. Chronic pain is caused by changes in the nerves.
Unexplained discomfort associated with malignant tumors is the chronic type. Pain from cancer may differ because of the body tissue it arises from. It can also happen with other symptoms such as sudden and unexplained or unexpected weight loss.
What are the types of chronic pain from cancer?
There are different kinds of chronic pain depending on the type and stage of your cancer which include . . .
1. Nerve pain
It is caused by pressure on nerves or the spinal cord, or by damage to nerves. The medical term for it is neuropathic pain.
Unexplained nerve discomfort is described as a burning or a feeling of something crawling under the skin. You can have a hard time describing exactly how it feels. It can sometimes be more difficult to treat this ache than other types. This is because malignant tumors do not have any nerves of their own.
2. Bone pain
It is usually one of the first symptoms in bone cancer. The tumor may either affect one specific area of the bone or several areas at a time. The tumor may have damaged the bone tissue thus causing the pain or discomfort.
It is also often described as dull, aching or throbbing. It is also one of the symptoms of leukemia and multiple myeloma, which is one of the rare types of cancer.
Chronic bone aches together with low grade persistent fever are symptoms of late stage cancers.
3. Soft tissue pain
It arises from the organ where a tissue damage has occurred. It is described as sharp, throbbing and aching. Examples are unexplained persistent headache that does not respond to treatment.
It may be one of the first symptoms of brain tumor. Chronic and unexplained back aches may be a symptom of ovarian tumor. When abnormal changes in your bowel movements occur with chronic and unexplained discomfort in your back, see your doctor. It may mean colorectal tumor.
Related Article: Warning Signs of Colon Cancer

Physical aches can be common among people who suffer from cancer but not everyone with the disease will feel discomfort at first. When you have cancer and you feel pain, it is almost always an indication of a malignant tumor that has already metastasized.
Another important symptom besides unexplained pain is chronic indigestion.