How to Prevent Skin Cancer
I realized that the most effective step on how to prevent skin cancer is to avoid the dangerous effects of ultraviolet radiation. How do I do it? I stay out of the sun's harmful rays between 10AM to 3PM as much as possible.
What if you can't stay out of the sun? Then the next best strategy is to prevent UV radiation from causing damage as much as possible.
Here are steps to follow:
1. Use a Sunblock or Sunscreen Lotion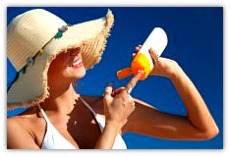 If you can't avoid the sun especially at midday, use a good (and chemical-free) sunblock lotion without piling on chemicals on your face or body.
Apply the lotion daily and generously even if it's cloudy, even if you are dark-skinned and most especially if you're fair-skinned.
A good sunscreen lotion should offer broad-spectrum protection of at least SPF15 for daily use to prevent sun damage. But if you are fair-skinned or live near the equator or in elevated area like the mountains you need a higher SPF for daily use. It should be able to penetrate your skin and not just stay on top of it.
For outdoor activities like swimming, you must liberally apply sunscreen with at least SPF50. Also, don't forget to re-apply.
But some people who have oily skin often complain about the sticky feeling they get from sunblock lotions. I also have oily skin and I'm thankful I discovered sunscreen lotions by Smart Shield because of their natural formula. Their lotions are oil-free, are Aloe Vera Based and are 100% absorbed by the skin for serious protection.
I have also discovered another brand after reading up on the sunscreen report of the Environmental Working Group: the Suntegrity. It got a #1 rating. I haven't tried the product yet but I'm intrigued with the woman who started it. She lost her mom to skin cancer so she really advocates the use of sunscreen. However, she wanted a "healthier" kind of sunblock lotion because the various chemicals used as ingredients may prevent the sun's radiation from penetrating your skin but may lead to another type of tumor.
I'm now using natural and chemical-free cosmetic products such as shampoo, body wash and facial toner since April 2012. I'm on the lookout for a chemical-free sunblock lotion so this is a product I'll be trying very soon.
2. Wear Sunglasses with 100% UV Protection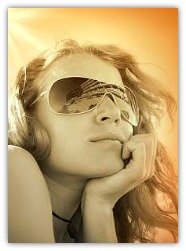 Use sunglasses that are big enough to fully cover your eyes and that offer 100% UV protection.
Oakley makes high quality sunglasses that have extended Plutonite lens. These provide 100% coverage and prevent eye damage from the sun's harsh light.
A high quality pair of sunglasses such as one made by Oakley may cost more but it can prevent damage to the delicate facial skin around your eyes and especially to your eyes.
Sunglasses with polarized lenses are the most expensive but they provide the best protection. Oakley also makes good sunglasses with polarized lenses.
Wearing a quality pair of sunglasses is important because the effects of ultraviolet radiation can also damage and weaken your immune system, making you more vulnerable to cancer.
3. Wear Protective Clothing
How to prevent skin cancer? Wearing sun protective or UPF clothing made of tightly woven fabrics is one way to do it. Choose dark colored clothes when you go out. They provide more protection than light colored clothing because UV radiation can pass through light clothing.
Using this type of clothing is highly recommended especially when you go outdoors for a long period of time. Protective clothing benefits children the most. Most well-known manufacturers of outdoor apparel such as Speedo now make UV Sun Shirts for kids.
4. Wear a Wide-Brimmed Hat or a Sun Hat
A wide-brimmed hat can cover cover your face, the back of your head and neck and your ears. So always choose a hat with a wide brim over a baseball cap. The cap won't give enough protection especially if you forgot to apply sunblock.
Many makers of hats now sell their products with sun protection. I like most those made by Tuga Sunwear. They make different styles for every need like there is one specifically for people who are avid runners. Tuga sunhats are made of lightweight fabric and offers 50+ UPF protection without exposing yourself to chemicals found in most sunscreen lotions. But remember that a hat is not a substitute for not applying sunblock lotion. It is not also an excuse to be under the heat of the sun during its peak.
5. Use an Umbrella or Seek Shade
Seek shade or take cover under an umbrella if you can't avoid the midday sun. But keep in mind that a regular umbrella, the trees or a canopy cannot provide complete protection.
Coolibar now makes sun-protective umbrellas with a rating of UPF 50+, which the Skin Cancer Foundation gives a thumbs up to. The umbrella comes in different sizes to suit your unique needs.
The travel model type is lightweight as it is made of titanium. It has a silver external coating that allows UV rays from the sun to bounce off. It provides ample coverage just like the other models. However, it is less durable than the other bigger models.
Here's a shadow rule to follow to prevent sun damage: "When your shadow is short, seek shade."

6. Avoid Sunlamps and Tanning Booths
Some people think sunlamps and tanning booths offer a safer way to get a tan. They also think using these equipments don't lead to the different types of skin cancer. The truth is there's no such thing as "safe tanning". A healthy tan is also a dangerous myth sold to us as truth many years ago.
Those tanning equipment also emit harmful radiation that are implicated in melanoma, lymphoma and leukemia. So please, stay away from sunlamps and tanning booths.
These strategies on how to prevent skin cancer should start early in childhood.
Related Pages that You Might Like:
How Does Sunscreen Work | What Causes Skin Cancer | Squamous Cell Skin Cancer | Changes in Moles and Other Abnormal Skin Growths | Signs of Skin Cancer | Signs of Melanoma
How to Prevent Skin Cancer
Cancer Prevention Home > Information on Skin Tumor > Preventing Skin Cancer
Images Copyright (c) 123RF Stock Photo