Cancer Prevention Blog
Your Cancer Prevention Guide site is constantly being updated with new pages of highly useful information and great health tips to prevent cancer just for you and your loved ones!

Anytime a new page is created, new health articles are posted, special announcements are made and previous pages are updated with new information - it will be posted here on this page.
Keep up with what's new and what's up easily here.
An e-mail is not necessary to subscribe. Just right click the orange RSS/XML button, choose "copy shortcut" and paste it into your RSS reader. You're set to go!
If you don't have an RSS reader and don't want to download one (but why not? It's free!), you can also receive our updates from Yahoo, MSN or Google. Just select the appropriate button on the left.
Not sure what RSS is all about? Just click What's an RSS Feed? You will be amazed at what RSS can do.
By the way, would you like to be a part of this blog?
If you have any experience with cancer (you or a loved one survived it, or you lost someone to it) and would like to share your story, click here! Your story becomes part of this blog (which shows the site's most recent pages) and a permanent part of Your-Cancer-Prevention-Guide.com for others to read!
To find the exact information you are looking for, simply enter your search term into the Google search bar below:


Lupeol: Another Reason to Pile on Fruits and Veggies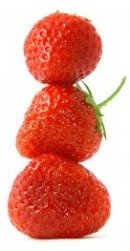 One more reason to ditch that piece of cake for a cup of succulent strawberries is the results from a study done by researchers in The Hormel Institute.
According to the team of experts led by Dr. Mohammad Saleem, lupeol is a powerful antioxidant, anti-inflammatory and anti-mutagenic food chemical.
Lupeol is particularly helpful in making treatment-resistant prostate cancer cells become receptive to therapy. It also decreases PSA level.
More Info:Information on Prostate Cancer
Fruits such as strawberries, grapes and apples and vegetables such as cucumbers are particularly rich in lupeol. Extra virgin and virgin olive oils also contain a high level of lupeol.
More Info: Choosing the Best Olive Oils
Continue reading "
Lupeol: Another Reason to Pile on Fruits and Veggies"
Images Copyright (c) 123RF Stock Photo